About Us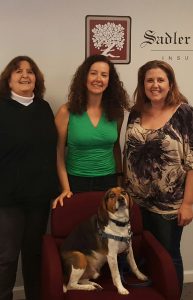 Sadler & Company, Inc. Insurance Brokers is a second generation insurance brokerage, and we're still trying to live up to the expectations and commitments started by Helen Zemansky in 1975. Back then, Mom bought the agency from Robert W. Sadler who began the agency in the early 1950s: Mom instilled in me 3 important aspects for running this company:
Care about each individual client
Personally answer the phone
Have fun along the way
Sounds simple, but with the way the world has changed, we don't do business with every client face to face the way that Mom did but being in such a small community we do have those that longtime clients that visit us monthly. We also rarely use our answer machine so you will get a live voice when calling us. We do though also communicate through newsletters and Facebook and we have a website. We enjoy our annual Abalone Feed where many of our long time clients who are friends enjoy seafood, a sleepy town called Little River and we work on getting some sand between our toes. We know that you rely on us to protect your most valuable treasures, including your business, family, home, cars, and finances. So let us handle your insurance and you pursue your passions. Life is what happens every day and it is important to be present in that moment.
Here are 3 easy steps to take when you get this welcome kit:
Open our Facebook page at facebook.com/sadlerinc
Like us on Facebook so you can receive our community updates and participate in our photo contests.
Join Us! Find an activity you can support, such as our annual food drive or join our team on one of our nature walks in beautiful Sonoma County!
How to Get in Touch
We invite you to submit a free online quote request.
We provide free, no hassle and no obligation insurance quotes to help you make an informed decision.
We have a Notary in our office.
Need an insurance quote? Get in touch!
Access quotes from California's most trusted insurance carriers. It's comparison shopping at the click of a mouse.